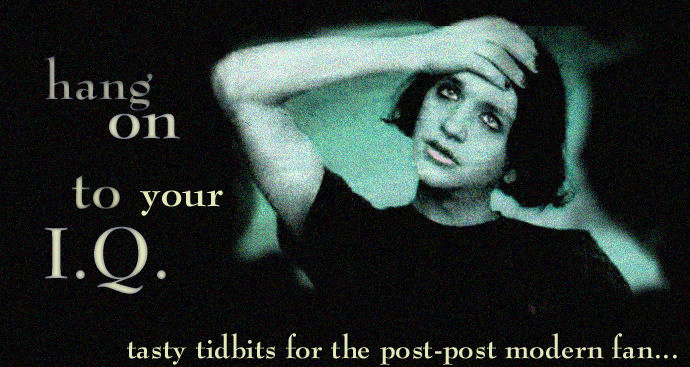 Welcome to the not yet finished Blister, a very unofficial Placebo site.
We wish to begin by saying that this is not meant to be a reproduction of the already existing Placebo sites... If you are looking for an informative, very exhaustive site to complete your Placebo research, I recommend the excellent Brick Shithouse.
What we are trying to do here, is to create a Placebo site from a very personal perspective. The Hang On to Your IQ page contains what we will loosely call news... like I said... loosely. We are in no way related to the great big machine that is the pop music industry, and therefore, like you, will most likely get my info from our friend the Net. However, what we do hope to do, is lead you to the information that we have found.This page will also be the place to find out about all the new and extraordinary things on this site.
The visuals we have chosen to include in the Eyesight to the Blind page are personally chosen stills from video footage, published photos, sometimes retouched with a little bit of Photoshop action, and pictures taken by ourselves. New live , backstage, published have recently been added.... Soon to be added: Live pics from Placebo's show in Montreal last spring.
Sing for Your Lover features RealAudio clips from b-sides, live stuff, interviews... Thanks to Stuart and Panther for the input. Finally uploaded some live stuff. You can even listen to an excerpt from 20th Century Boy, performed live at the Brits with David Bowie...
Sucker Love is where we invite all Placebo fans with Placebo stories or pictures, and those guilty of spending hours making Placebo art etc. to show off a little. While you're there, why not test your knowledge with our Placebo Quiz. This section includes an item that we are particularly proud of, The Molkonatrix, a comic strip, updated monthly, featuring the ever-heroic antics of The Molkonatrix, Nordic Boy, and Token Bloke. EPISODE 2 IS OUT NOW!!! Go take a peek... We have been really bad at keeping our schedule with Episode 3. Blame writer's block, work, exams, boys... Messiah and I have made a pact to have it done by the end of April
Finally, Ask for Answers is our list of links of all things Placebo. Recently edited. Hope your visit to our humble site proves to be mildly enjoyable!
xxx
3 August, 1999
---